Hai! Baru-baru ni saya mencari satu software yang dapat buka aplikasi Android di desktop dengan mudah. Sebenarnya saya pernah guna satu software ni, tapi software tu slow pulak loadingnya kat laptop saya ni. Jadi saya cari alternatif lain kepada software tersebut.
.
Macam biasa, saya pun google lah buat kajian dan baca review-review orang, dunia kat hujung jari kan. Lepas dah baca-baca review semua, saya buat pilihan nak try guna software Andy Android Emulator ni. Saya panggil software 'Andyroid' jer, huhu.
.
Software Andyroid adalah salah satu Android emulator yang terbaik untuk desktop. Anda boleh buka aplikasi android di desktop Windows ataupun Mac. Sangat mudah untuk anda guna dan anda boleh install apa sahaja aplikasi dari Google Play Store dan bukak kat desktop anda.
.
Kenapa Saya Perlukan Software Yang Boleh Buka Aplikasi Android Di Dekstop?
.
Okay, sebelum saya tunjukkan cara nak nak download software Andyroid tu, saya cerita dulu kenapa saya cari software yang boleh buka aplikasi android di dekstop ni. Baru-baru ni saya join Akademi Borong China MyWau.
.
Akademi Borong China Mywau ni menawarkan pakej pembelajaran cara beli barang dari laman web Taobao.com dan 1688.com. Kalau anda bukak kedua-dua laman web tersebut, semuanya dalam bahasa Cina. Sebab, kedua-dua laman web ni adalah marketplace untuk rakyat kat negara China.
.
Semua tutorial pembelajaran tu disimpan dalam satu aplikasi iaitu MyWau Flix. Kita kena download dan install dulu aplikasi ni kat Google Play Store untuk tengok e-Book atau video panduan dalam tu.
.
Ni pertama kali saya jumpa panduan bisnes yang letakkan semua e-Book dan video pembelajaran dalam satu aplikasi kat Google Play Store. Agak advance jugak, huhu. Tapi kekurangannya cuma saiz e-Book dan video tu kecik bila kita tengok melalui skrin fon.
.
Saya perlukan software yang boleh bukak aplikasi ni kat laptop sebab saya nak tengok video-video panduan dalam tu dengan skrin yang lebih besar supaya lebih jelas dan lebih mudah untuk saya faham. Okay, sekarang saya tunjukkan caranya…
.
Cara Download Dan Guna Software Andyroid
.
Untuk download software Andyroid ni, ikut langkah-langkah yang saya tunjukkan ni. Mula-mula sekali anda pergi ke laman web Andyroid ni. Lepas tu anda scroll sikit ke bawah, nanti anda akan nampak butang download macam dalam gambar kat bawah ni. Klik butang tu dan download.
.
[[Sebelum tu anda kena tau, software Andyroid ni agak besar jugak saiz failnya, dalam 900mb. Nak dekat 1GB dah tu. Jadi, pastikan anda ada kuota data internet yang banyak dan cukup untuk anda download]]
.
.
Okay, bila dah selesai download, anda pergi ke fail tersebut. Kebiasaannya ada dalam folder 'Downloads' kat laptop anda. Double klik pada fail software Andyroid jenis 'Application'. Kemudian, klik 'Run' untuk install software tersebut ke laptop anda. Klik 'Accept and Install' dan tunggu sampai proses install selesai.
.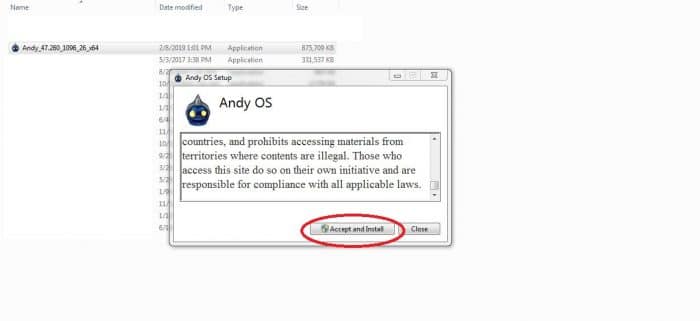 .
Bila proses install dah selesai, bukak software tersebut. Dekat desktop anda pun nanti ada shortcut untuk software Andyroid ni. Bila-bila masa nak guna, klik jer shortcut tu. Gambar kat bawah ni adalah interface software Andyroid tu. Nampak tak macam homescreen katfon ada kat desktop. Ada Google Chrome, Google Play Games dan Google Play Store…
.
.
Langkah seterusnya, klik pada Google Play Store. Anda akan diminta untuk sign in ke akaun Google anda. Masukkan maklumat Gmail dan password macam biasa…
.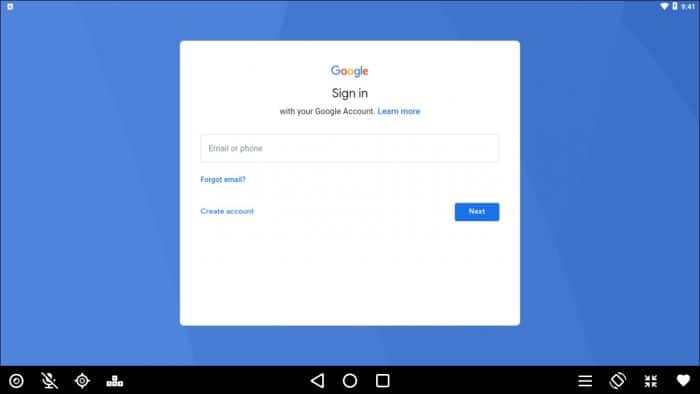 .
Haaa…sekarang Google Play Store dah ada kat desktop anda. Anda boleh install jer apa-apa aplikasi yang anda nak guna kat dektop. Aplikasi macam Facebook, Instagram, Youtube, Whatsapp tu semua anda tak payah la install, sebab tu semua boleh bukak kat Google jer.
.
Software ni gunanya untuk anda bukak aplikasi yang boleh bukak kat fon tapi tak ada kat Google. Kita nak bukak kat desktop sebab nak guna apliksai tu dengan skrin yang lebih besar. Contoh macam game semua tu anda boleh lah try main kat desktop pulak, huhu.
.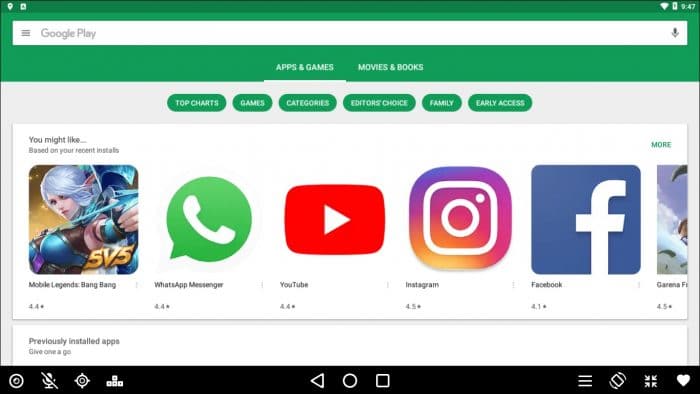 .
Anda boleh search jer apa-apa aplikasi yang anda nak guna kat bahagian searchbar tu. Contoh macam saya ni, saya nak guna aplikasi MyWau Flix. Aplikasi ni boleh bukak kat fon jer. Tapi dengan bantuan software Andyroid ni, saya boleh bukak kat desktop pulak. Saya search dan install macam biasa…
.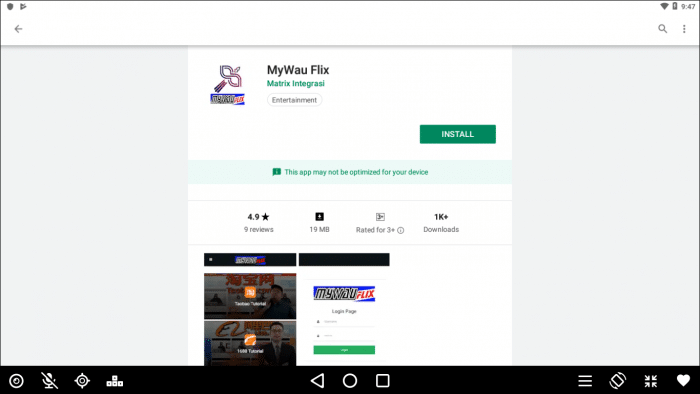 .
Lepas dah install, bukak aplikasi tu macam biasa. Untuk guna aplikasi MyWau Flix ni, kita kena log in dulu dengan akaun yang dah berdaftar. Masukkan maklumat emel dan password kemudian tekan log in.
.
.
Macam mana nak daftar untuk guna aplikasi MyWau Flix ni? Anda kena join dulu Akademi Borong China dengan memilih salah satu pakej yang ditawarkan. Saya sarankan anda dapatkan pakej Super Premium tu sebab kelebihannya anda akan dapat;
LIFETIME SUPPORT – TELEGRAM
50++ TRUSTED WECHAT SELLER ID
100++ LINK 1688 TRUSTED SELLER
FREE ACCESS TO TAOBAO & 1688 ONLINE COACHING
.
Okay, bila dah log in nanti, ini paparan yang terdapat dalam aplikasi MyWau Flix ni. Ada tutorial A-Z cara beli barang kat Taobao.com, ada tutorial A-Z cara beli barang kat 1688.com, Ada tutorial A-Z cara guna sistem shipping MyWau dan ada tutorial A-Z cara jual barang kat Shopee. Belajar beli kat China dengan harga murah, belajar jugak cara jual balik dan jana pendapatan sampingan…
.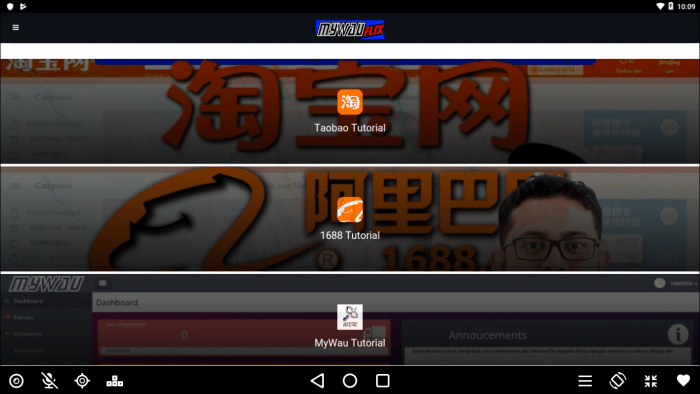 .
Sebagai contoh, saya masuk dalam 'Taobao Tutorial'. Dalam setiap tutorial tu ada beberapa tajuk pembelajaran. Anda boleh pilih nak belajar guna e-Book ataupun video.
.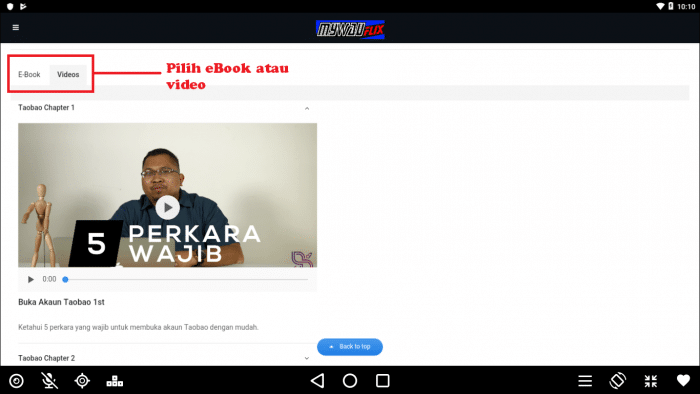 .
Sekarang pembelajaran saya lebih jelas dan mudah dengan membaca e-Book atau menonton video panduan melalui skrin yang lebih besar! Okay, itu sahaja langkah-langkah cara buka aplikasi android di dekstop yang saya buat.
.
Sekarang anda dah boleh guna aplikasi dari Google Play Store kat laptop anda pulak, huhu. Cukup setakat ni dulu untuk artikel kali ni, jumpa anda lagi dalam artikel seterusnya. Woot woot!
.