Hai! Pernah tak anda ambil masa sekejap untuk tengok balik bagaimana anda jalani kehidupan pada minggu lepas? Kita tak perlu fikirkan jauh-jauh sampai bulan lepas atau tahun lepas, cukup sekadar kita tengok apa yang dah kita buat pada minggu lepas untuk evaluate samaada kita dah buat yang terbaik dalam hidup ni sebagai seorang usahawan ataupun freelancer.
Ada tak anda rasa kesal terhadap sesuatu dan terlintas kat fikiran anda, "Aku sepatutnya boleh buat lebih baik lagi!" Bila anda tengok balik, sebenarnya anda tak gunakan pun masa yang anda ada dengan sebaiknya. Anda tak 'all-out' dan anda tak dapat hasil yang sepatutnya anda boleh dapat. Anda rasa rugi. Kalau ada, saya yakin punca utamanya adalah sebab sikap diri anda sendiri yang suka bertangguh kerja.
Masa Itu Emas
Masa itu emas. Setiap usahawan ataupun freelancer ada 24 jam dalam satu hari, 7 hari dalam seminggu dan 365 hari dalam setahun. Semakin hari, semakin kita berumur. Sampai satu masa nanti, slow-slow nikmat yang kita ada sekarang ni berkurang. Kekuatan, kebolehan, ilmu…semuanya akan berkurang. Sebab tu masa yang kita ada ni 'emas'.
Sebaiknya, sebelum sampai masa tu nanti, kita nak buat progress dalam kehidupan sebagai seorang usahawan online, usahakan sesuatu, hasilkan sesuatu dan berjaya dalam apa sahaja yang kita usahakan. Kita nak ada rasa yang kita dah buat lebih baik dari hari semalam, lebih baik dari minggu lepas dan semakin maju dalam apa yang kita usahakan.
Apa Jadi Kalau Kita Ada Sikap Suka Bertangguh Kerja?
Kebanyakan seorang usahawan ataupun freelancer ni berkerja sendiri, tak ada siapa yang kawal dan pantau kehidupan seharian kita, betul? Kita berkerja ikut jadual dan masa kita sendiri. Ikut suka hati sendiri. Kita tak ada bos, malah kita lah bos. Sebab tu lah senang-senang jer kita boleh tangguh sesuatu kerja.
Kita bertangguh kerja sebab kita memang boleh tangguh. "Alahai, buat malam kang lah.". "Alahai, sambung buat esok lah.". Kita bertangguh kerja sebab kita 'rasa' ada banyak masa sampailah tiba masa last minit nak selesaikan atau submit sesuatu kerja barulah kita sedar kita sangat perlukan masa yang lebih.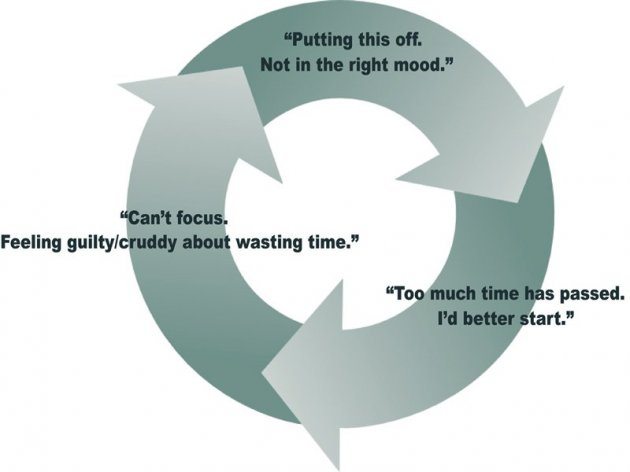 Bila kita bertangguh kerja, kita akan gunakan masa yang sepatutnya kita boleh gunakan untuk benda lain. Kita tak dapat nak buat progress dalam kehidupan. Kita akan sentiasa stuck pada kerja lama kita. Jadi, kita tak ada peluang nak usahakan sesuatu dan tak dapat hasil yang kita nak. Kalau benda ni berterusan, kita akan rugi banyak perkara dalam hidup ni. Sikap bertangguh itu pencuri masa usahawan!
5 Strategi Elak Sikap Suka Bertangguh Kerja
Jadi, tujuan saya menulis artikel ni adalah untuk sarankan kepada anda beberapa strategi nak elak sikap suka bertangguh kerja supaya anda boleh gunakan masa yang ada dengan sebaiknya, tingkatkan produktviti dalam kehidupan, dapat kembangkan potensi diri ke tahap yang tinggi dan jadi seorang usahawan ataupun freelancer yang puas hati dalam kehidupan dari hari ke hari. Jom layan!
Buat Dulu 5 Minit! – Bertangguh Itu Pencuri Masa Usahawan!
Founder Instagram, Kevin Systrom ada kongsikan satu strategi kalau nak elakkan daripada bertangguh buat sesuatu kerja. Kalau anda tetiba rasa tak ada mood dan tak nak buat sesuatu kerja, cakap kat diri anda…"Okay, just buat 5 minit jer dulu". Dan please, sila ambil masa buat kerja tu selama 5 minit jer dulu.
Lepas 5 minit, anda akan perasan anda boleh buat lebih daripada apa yang anda expect dalam masa 5 minit tu dan anda akan rasa terdorong untuk teruskan dan buat lebih dari tu. Kenapa ini berlaku? Tindakan kita MULA BUAT sesuatu, akan aktifkan fenomena psikologi 'Zeigarnik Effect' yang mana 'susah untuk kita abaikan sesuatu kerja yang belum siap setelah kita mulakannya'.
Ini adalah jauh lebih baik daripada kita terus cakap pada diri sendiri, "Alahai, sambung buat esok lah." Jadi, untuk mula buat sesuatu kerja selama 5 minit tu, cuba tanya diri anda, "apa step pertama yang aku kena buat dulu?".
Mulakan Dengan Benda Yang Senang! – Bertangguh Itu Pencuri Masa Usahawan!
Apa yang 'Zeigarnik Effect' ajar kita adalah, senjata utama nak lawan sikap suka bertangguh adalah mulakan buat sesuatu. Start somewhere, start anywhere. Dan cara yang terbaik adalah mulakan dengan benda yang senang!
Kalau kita fikir nak bina satu kedai online e-Commerce sendiri, mesti akan terasa susah. Tak tahu nak mula dari mana. Tapi kalau kita fikir mulakan dengan tengok video yang pertana dalam Geng Shopievo: 1 Usahawan 1 e-Commerce dulu, mesti benda tu akan rasa senang.
Bila anda dah mula buat sesuatu, anda akan rasa satu aura yang menggalakkan anda untuk terus selesaikan apa yang telah anda mulakan, huhu.
Kena Jelas Dengan Nilai Matlamat! – Bertangguh Itu Pencuri Masa Usahawan!
Jelas dengan matlamat adalah benda yang penting. Tapi jelas dengan 'nilai' yang kita boleh dapat daripada matlamat kita tu adalah benda yang akan memotivasikan kita untuk selesaikan sesuatu kerja. Kalau kita tak jelas dengan 'nilai' yang kita boleh dapat daripada matlamat, kita tak hargai dan tak ada motivasi nak selesaikan sesuatu kerja tu.
Sebagai contoh, mungkin anda kena siapkan sesuatu kerja untuk terima bayaran daripada klien, tapi nilai sebenar siapkan kerja tu adalah kerja tu sendiri akan bagi anda pengalaman dan buka peluang yang lebih besar untuk anda pada masa akan datang. Ini akan bagi anda motivasi untuk selesaikan sesuatu kerja.
Buat Deadline! – Bertangguh Itu Pencuri Masa Usahawan!
Mungkin anda tak sedar dengan 'the power of deadline'. Deadline akan berikan anda rasa 'urgency' untuk selesaikan sesuatu kerja. Lebih-lebih lagi kita sebagai usahawan ataupun freelancer ni, sangat perlukan deadline.
Sebaiknya, buat deadline yang membolehkan anda selesaikan sesuatu kerja dalam masa seminggu. Kalau nak lagi produktif, anda boleh buat deadline yang lagi singkat daripada tu. Tapi deadline anda tu mestilah praktikal dan bersesuain dengan kemampuan anda untuk selesaikan sesuatu kerja.
Elakkan Nak Jadi Perfect! – Bertangguh Itu Pencuri Masa Usahawan!
'Perfect is the enemy of done'. Ayat ni ada pada wallpaper laptop saya. Serius, semakin kita nak jadikan seuatu benda tu sempurna, selagi tu kita tak selesai buat seuatu kerja. Kita tak perlu risau samaada hasil kerja kita tu sempurna atau tidak. Kita cuma perlu buat yang terbaik.
Tambahan lagi, kita sentiasa ada peluang untuk perbaiki dan cuba buat lebih baik pada masa akan datang. 'You can always edit a bad page. You can't edit a blank page.' – Jodi Picoult
Kesimpulan
Sikap bertangguh tu bukan sifat malas. Bertangguh tu adalah keputusan yang kita buat untuk tidak mulakan buat sesuatu kerja. Kerja bertangguh terjadi bila anda gagal untuk disiplin diri. Anda tak berjaya nak bagi motivasi pada diri anda untuk mula buat sesuatu.
Jadi, 5 strategi yang saya kongsikan ni dapat bantu anda untuk elakkan sikap suka bertangguh, buat progress dalam kehidupan sebagai seorang usahawan online, usahakan sesuatu, hasilkan sesuatu dan berjaya dalam apa sahaja yang anda usahakan. Woot woot!
.