Rasanya masih belum terlambat untuk saya bagitahu anda dan ajar anda buat akaun Whatsapp untuk perniagaan dengan aplikasi baru Whatsapp Business sebab aplikasi Whatsapp Business baru jer dilancarkan pada 18 Januari 2018 yang lepas. Tak sampai sebulan pun lagi.
Facebook beli Whatsapp dengan harga USD ($) 19 billion pada tahun 2014. Whatsapp adalah antara aplikasi mesej untuk smartphone yang banyak orang guna. Sama macam SMS, Whatsapp membolehkan orang berhubung membalas mesej dengan nombor telefon.
Cumanya, aplikasi Whatsapp ni boleh digunakan hanya dengan internet. Orang tak perlu bayar seposen, berbelas sen setiap kali hantar mesej, hah! Teringat pulak zaman dulu-dulu kena caj setiap kali balas mesej lepas tu kena topup selalu, haha.
Oleh sebab zaman sekarang ni zaman internet dan guna Whatsapp pun dapat jimat kos topup, buatkan Whatsapp dapat kumpul 450 juta pengguna dalam masa 5 tahun. Mat Juki, CEO Facebook cakap "No one in the history of the world has done anything like that.".
Tambahan lagi, Whatsapp tak paparkan iklan-iklan yang merimaskan macam kebanyakan aplikasi lain buat untuk buat duit. Whatsapp hanya caj USD ($) 1 jer pada pengguna itu pun lepas guna Whatsapp secara percuma selama 1 tahun!
Lepas Mat Juki beli Whatsapp, dia terus hapuskan caj bayaran USD ($) 1 tu menjadikan Whastapp ni percuma jer nak guna sampai bila-bila. Mat Juki cakap, dia tak nak fokus pada buat duit pun melalui Whatsapp tapi hanya nak fokus pada perkembangan dan memajukan aplikasi Whatsapp sahaja sampailah pengguna mencecah jumlah 1 billion.
Buat Akaun Whatsapp Untuk Perniagaan – Pelancaran Aplikasi Whatsapp Business
Betul-betul lepas 2 tahun Mat Juki beli Whatsapp, pengguna Whatsapp cecah 1 billion pengguna pada tahun 2016. Bekas CEO Whatsapp, Jan Koum ambil masa 5 tahun untuk kumpul 450 juta pengguna Whatsapp, Mat Juki pulak ambil masa 2 tahun jer tambah lagi 550 juta pengguna. Sekarang saya pulak yang cakap, "No one in the history of the world has done anything like that." – Asyraf Farouq, Penulis Shopievo. Kah!
Pada Januari 2018 baru-naru ni, pengguna Whatsapp dah pun cecah 1.5 billion. Semakin hari semakin ramai yang guna Whatsapp untuk berhubung dengan kengkawan dan keluarga. Tambahan lagi, dah jadi trend sekarang ni, usahawan guna Whatsapp untuk bisnes, untuk follow up dan close sale prospek.
Mat Juki memang dah sedar dengan benda ni. Dia tahu pengguna buat order kat Whatsapp dan ada usahawan yang follow up dengan ratusan prospek guna Whatsapp. Ada jugak yang bagi feedback penggunaan Whatsapp untuk bisnes sangat-sangat terhad dan tak pasti samaada ia satu medium yang dapat memudahkan usahawan atau tidak.
Jadi dari bulan Oktober tahun lepas, Mat Juki dengan dia punya team Whatsapp dah mula testing fungsi baru untuk selesaikan halangan-halangan penggunaan Whatsaap untuk para usahawan dan memudahkan pengguna berhubung dengan entiti bisnes.
Diorang mula bina dan test satu sistem aplikasi percuma Whatsapp Business untuk usahawan-usahawan kecil dan satu lagi sistem untuk bisnes-bisnes besar yang ada lebih banyak pelanggan seluruh dunia seperti syarikat penerbangan, bisnes e-Commerce dan bank. Bines-bisnes besar ni nanti boleh update info-info penting pada pelanggan contohnya macam waktu penerbangan, pengesahan penghantaran produk dan fungsi-fungsi lain.
Jadi pada bulan lepas, Whatsapp melancarkan aplikasi Whatsapp Bisnes! Applikasi Whatsapp Bisnes ni adalah satu aplikasi lain dari Whatsapp yang asal tu. Anda kena download dulu Whatsapp Business ni dekat Google Play atau klik pada gambar kat bawah ni…
Setakat pembacaan saya, tak ada lagi info pasal sistem aplikasi Whatsapp yang lagi satu untuk bisnes-bisnes besar tu. Mungkin masih lagi datam fasa testing.
Cara Buat Akaun Whatsapp Untuk Perniagaan Guna Whatsapp Business
Sekarang saya akan tunjukkan cara buat akaun Whatsapp untuk bisnes. Kemudian saya akan terangkan beberapa fungsi baru dan khas untuk usahawan dan bisnes, yang tak ada kat Whatsapp biasa. Pastikan anda dah download aplikasi Whatsapp Business dekat fon anda dan buka applikasi Whatsapp Business.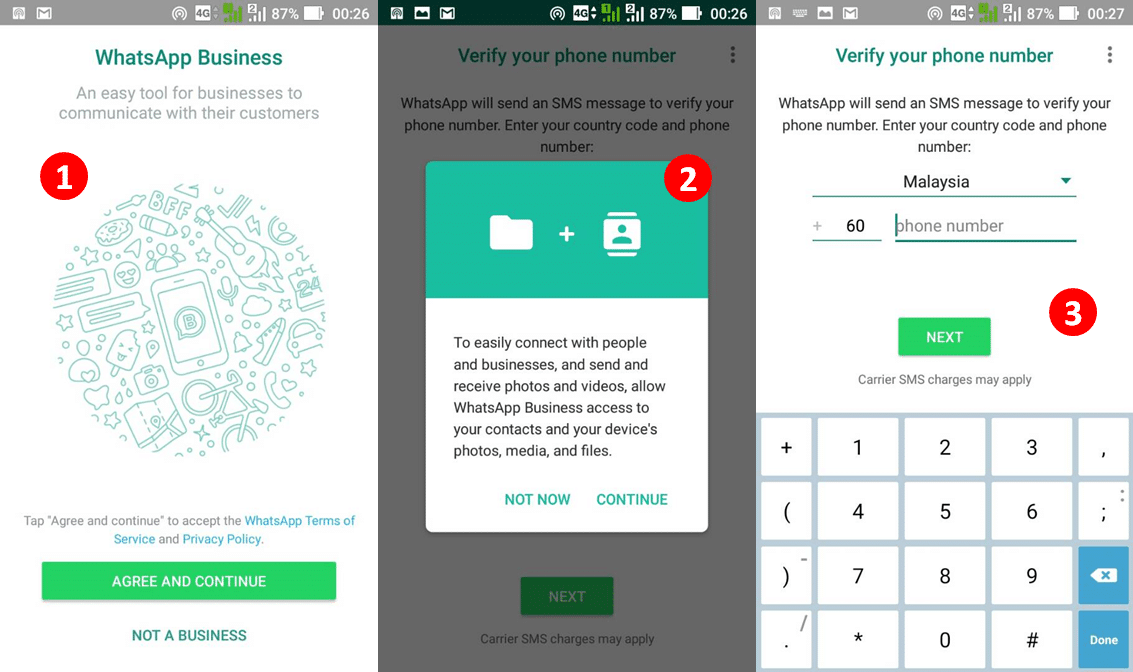 Tekan 'Agree And Continue'. Kalau anda rajin, boleh baca Terms Of Service dengan Privacy Policy dulu tapi macam biasa ramai yang malas nak baca kat situ, jadi tekan jer Agree And Continue, haha.
Anda boleh tekan 'Continue' sahaja untuk Whatsapp Business akses ke senarai contact dan galeri fon anda. Nanti senarai contact akan masuk ke senarai Whatsapp Business anda dan anda pun boleh transfer gambar-gambar dan info berkaitan bisnes anda nanti.
Masukkan nombor fon yang anda gunakan untuk bisnes anda untuk proses pengesahan. Pastikan nombor fon ini berbeza dengan nombor fon Whatsapp biasa anda! Setiap orang hanya boleh ada salah satu samaada Whatsapp biasa atau Whatsapp Business sahaja dalam fon masing-masing untuk nombor fon yang sama. (anda telah diberi amaran, huhu)
Masukkan nama bisnes anda dan gambar logo bisnes anda. Anda perlu ingat bahawa nama bisnes yang anda masukkan tu tak boleh diubah nanti. Jadi, masukkan betul-betul nama bisnes anda yang menggunakan nombor fon yang telah anda guna untuk daftar Whatsapp Bisnes tadi.
Tekan butang 'chat' untuk mulakan mesej dan pilih dari senarai contact anda.
Senarai chat akan keluar pada halaman 'Chats' macam biasa.
Untuk bahagian 'Status' dan 'Calls', sama macam Whatsapp biasa yang anda gunakan. Untuk update status, stories dan lihat senarai panggilan yang anda telah buat.
Okay dah, settle! Selesai buat akaun Whatsapp untuk perniagaan guna aplikasi Whatsapp Business. Sekarang kita tengok pulak apa fungsi-fungsi baru yang ada dalam Whatsapp Business.
Buat Akaun Whatsapp Untuk Perniagaan Guna Whatsapp Business – Banyak Kelebihan Khas Untuk Usahawan!
Ini adalah beberapa fungsi khas yang terdapat dalam aplikasi Whatsapp Business untuk usahawan kecil yang dapat memudahkan usahawan behubung dengan pelanggan, menigkatkan produktiviti jual beli dan meningkatkan kredibilti bisnes.
1. Business Profiles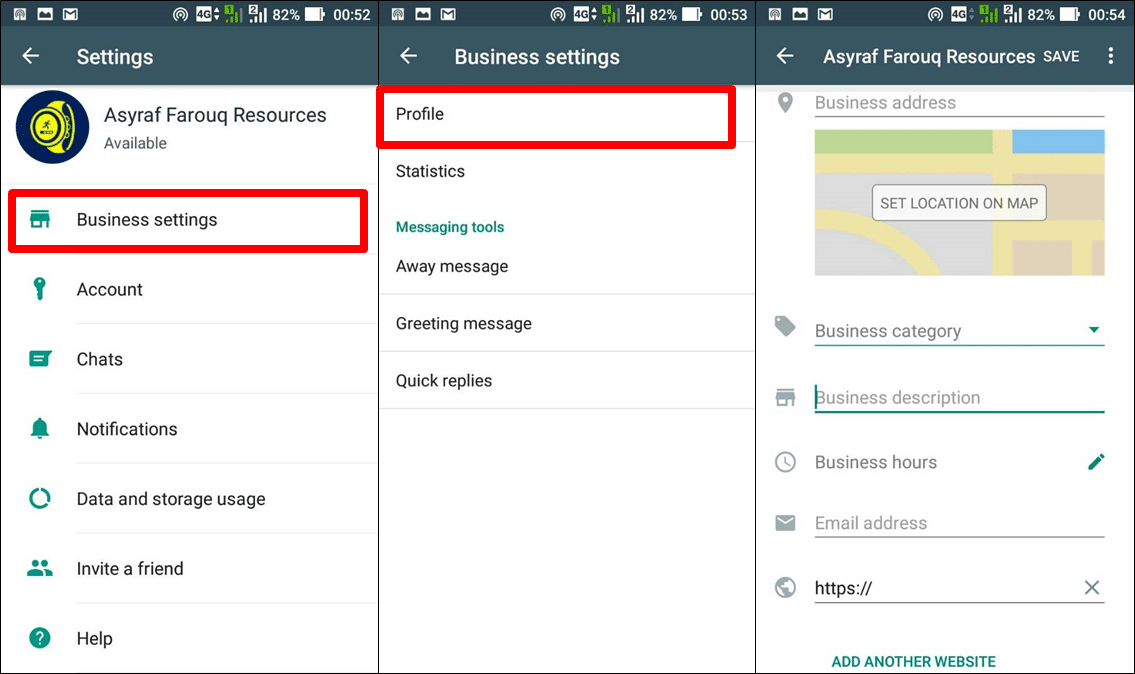 Dengan Whatsapp Business, anda boleh sediakan butiran perniagaan anda. Masuk ke bahagian Setting > Business Settings > Profile.
Di sini anda boleh update alamat atau lokasi perniagaan anda, pilih kategori bisnes, masukkan penerangan tentang bisnes anda, waktu yang anda available untuk pelanggan hubungi anda, alamat emel dan laman web. Jika anda ada kedai online e-Commerce anda sendiri, anda boleh masukkan di bahagian ini.
2. Smart Messaging Tools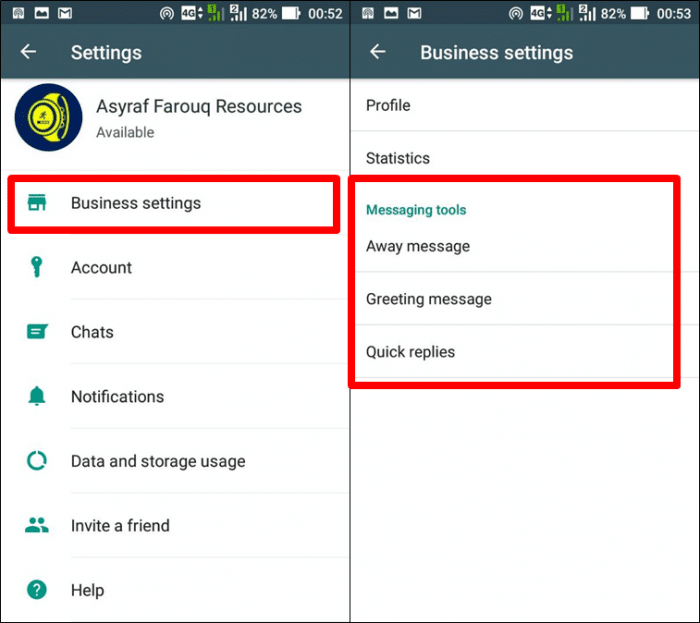 Dengan Whatsapp Business, anda boleh on kan fungsi balas mesej secara automatik semasa anda tak available pada waktu-waktu tertentu, balas mesej secara automatik untuk pelanggan yang Whatsapp anda buat pertama kali dan buat shortcut untuk balas mesej yang kerap kita gunakan. Masuk ke bahagian Setting > Business Settings > Messaging Tools.
Saya suka dengan fungsi 'Quick Replies' yang boleh bantu kita balas mesej yang kerap kita gunakan. Memang sesuai untuk usahawan. Sebagai contoh, saya mungkin akan buat satu shortcut '/carabayar' yang mana bila pelanggan dah komfem nak beli, saya hanya taip '/carabayar' sahaja tapi dia akan keluar…
…"Okay, kalau sis serius nak order bantal busuk ni, buat bayaran online ke nombor akaun ini ya  dan Whatsapp saya balik bagitau 'dah buat bayaran'. Nanti saya akan sahkan pembayaran dah teruskan pada penghantaran. Terima kasih!" Haa… saya cuma perlu taip sikt jer tapi ayat tu keluar panjang yang kita biasa gunakan. Jimat masa.
3. Messaging Statistics
Untuk bahagian ini, anda boleh tengok statistik mesej yang telah anda hantar, yang telah diterima orang, yang telah dibaca dan yang anda sendiri terima. Saya tak berapa pasti sangat fungsi ni boleh membantu tang mana haha sebab saya pun baru lagi daftar akaun Whatsapp Business ni dan baru cuba chat dengan 2 orang kawan saya jer.
Dah banyak chat dengan prospek nanti baru boleh analisa kat bahagian statistik ni. Okay, tak apa, teruskan…
4. Labels
Lihat pada bahagian option akaun Whatsapp Business yang saya daftarkan. Bezanya daripada Whatsapp biasa ialah tambahan fungsi 'Labels'. Dengan fungsi Labels, usahawan boleh labelkan pelanggan di Whatsapp mengikut kategor-kategori berikut…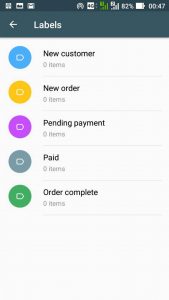 Jadi, senang untuk kita track proses berjual beli kita di Whatsapp Business dengan prospek. Kita boleh kategorikan prospek dengan label New Customer, New Order, Pending Payment, Paid dan Order Complete. Senang untuk kita beri lebih perhatian Pending Payment untuk follow up prospek dan Paid untuk membuat penghantaran produk.
5. Account Type
Jika anda menghantar mesej guna Whatsapp Business pada seseorang, diorang akan tahu akaun Whatsapp anda tu adalah entiti bisnes sebab anda akan dilabelkan sebagai 'Business Account' pada info Whatsapp anda.
Tengok gambar kat atas tu. Gambar tu adalah screenshot daripada fon kawan saya bila dia klik bahagian info mesej Whatsapp saya yang gunakan Whatsapp Business. Saya try hantar mesej ke kawan saya untuk buat ujikaji apa yang diorang nampak bila saya whatsapp dia guna Whatsapp Business.
Okay, ada beberapa point penting berdasarkan pemerhatian saya yang anda perlu tahu;
Jika kita hantar mesej Whatsapp guna Whatsapp Business pada orang yang tak pernah save nombor yang kita daftarkan untuk Whatsapp Business, mereka akan dapat mesej kita tu dengan nombor fon bisnes kita. Bukan nama bisnes yang kita daftarkan awal-awal tadi. Mereka hanya akan nampak nama bisnes kita bila diorang klik pada info Whatsapp kita. Mereka masih perlu savekan nombor bisnes kita kat fon diorang barulah nama bisnes kita tu keluar kat depan.
Akaun Whatsapp Business kita dilabelkan dengan 'Business Account'.
Ada tanda lencana dengan tanda soal di status akaun Whatsapp Business saya yang baru daftar. Bila orang atau pelanggan klik pada lencana tersebut, dia tulis "Asyraf Farouq Resources (nama akaun Whatsapp Business yang saya daftarkan) may be a business account, but Whatsapp hasn't verified their name yet.".
Akaun Whatsapp Business saya belum diverify lagi sebab baru daftar.
Kat sini, hilang fungsi guna Whatsapp Business untuk kita jadi lebih profesional dan tingkatkan kredibiliti dalam berniaga untuk buat orang atau pelanggan jadi lebih percaya. Jadi lebih baik saya tidak menggunakan akaun Whatsapp Business saya dulu untuk berhubung dengan prospek sehinggalah akaun saya di verified!
Sumber Gambar : Whatsapp.com FAQ
Persoalan yang timbul adalah, bagaimana nak dapatkan status 'Verified Business Account' atau paling tidak pun 'Confirmed Business Account'? Adakah kita perlu menghantar dokumen-dokumen tertentu? Tapi saya tak ada dapat apa-apa notification arahan buat sesuatu untuk verify akaun pun…?
Berdasarkan carian saya, jawapan terbaik yang saya jumpa setakat ini adalah daripada satu laman web Whatsapp fan page, WABetaInfo.com dalam post bertarikh 5 Februari 2018 yang mana mereka tanya terus soalan yang sama yang saya sendiri nak tahu dan ramai lagi orang nak tahu dan telah dijawab oleh Whatsapp Support Team sendiri.
"WhatsApp follows a process to asses if a business can be confirmed or verified. There is no action you need to take to be considered for either account type.
We will automatically review your business information on an ongoing basis."
Berdasarkan jawapan daripada Whatsapp Support Team ni, tak ada apa pun yang kita perlu buat untuk verify akaun Whatsapp Business kita. Whatsapp sendiri akan automatik review kita punya bisnes info.
Tapi saya masih tak berapa jelas bagaimana mereka automatik review kita punya bisnes info untuk verify sebab tak ada dokumen yang Whatsapp mintak untuk sahkan akaun bisnes kita. Saya pun tak jelas berapa lama saya kena tunggu untuk proses verification ni.
Jadi, saya akan sentiasa update dengan perkembangan aplikasi Whatsapp Business ni dan sampaikan pada anda supaya kita dapat guna sepenuhnya untuk kredibiliti dan produktiviti dalam berniaga.
Kesimpulan Buat Akaun Whatsapp Untuk Perniagaan Guna Aplikasi Whatsapp Business
Mula-mula saya memang excited pasal aplikasi khas Whatsapp Business untuk usahawan kecil ni. Kita boleh lihat ada beberapa fungsi yang memang kita perlukan sebagai usahawan yang nak berniaga menggunakan Whatsapp secara lebih produktif dan profesional.
Cuma satu benda jer yang hadkan kita daripada terus guna applikasi Whatsapp Business ni hari ini iaitu fungsi status akaun Whatsapp Business kita. Berapa lama kita kena tunggu sehingga akaun Whatsapp Business kita diverify?
Bila prospek nampak jer "This account hasn't been confirmed nor verified by Whatsapp", terus jatuh kredibilti bisnes kita. Prospek ingat Whatsapp entah dari scammer mana dan mungkin terus kena block jer nanti…tak gitu? Selagi tu, kita kena hold dulu  penggunaan Whatsapp Business ni.
Apa yang saya nampak juga, kalau akaun Whatsapp Business kita dah diverify nanti, aplikasi ni sesuai diguna bila kita buat marketing contohnya FB Ads atau marketing dekat blog, dan kita letak link ke Whatsapp Business kita guna wasap.my di akhir copywriting. Bila orang klik link tu terus ke Whatsapp Business kita untuk proses jual beli.
Lagi satu benda yang saya excited nak tengok sebenarnya ialah Whatsapp Business untuk bisnes online secara e-Commerce. Seperti yang saya cerita awal-awal di artikel ni, Mat Juki plan nak buat Whatsapp Business untuk usahawan kecil dan satu lagi solution yang masih belum ada berita untuk bisnes secara e-Commerce.
Whatsapp Business dah pun dilancarkan. Oleh sebab kami di Shopievo.com buat bisnes dropship online secara e-Commerce, kami memang menantikan solution ini. Anda dah join Geng Shopievo – 1 Usahawan 1 e-Commerce? Kalau belum, cekidout dekat sini ya!
Anda dah cuba buat akaun Whatsapp untuk perniagaan guna aplikasi Whatsapp Business? Bagaimana dengan status akaun anda sekarang? Ade tak dengar-dengar cerita jiran sebelah yang akaun Whatsapp Business dia dah diverify ke? Kongsikan kat bahagian komen ya supaya kita semua dapat manfaat! Woot woot!
.