Hai! Dalam artikel ni saya akan tunjukkan anda secara ringkas bagaimana anda nak design gambar menarik. Kebiasaannya, usahawan memang perlukan gambar-gambar yang menarik lebih-lebih lagi untuk buat FB Ads.
Gambar ni sangat penting sebenarnya. Gambar iklan FB Ads anda perlulah menarik dan juga jelas sebab ia salah satu faktor yang boleh mempengaruhi performance iklan anda nanti. Kita akan gunakan tool design gambar yang gempak tapi percuma jer iaitu Canva!
Saya sendiri tak berapa pandai design walaupun saya memang ada hati nak jadi power dalam bidang graphic designer. Dah pasang niat nak mula belajar design guna software yang advance sikit tapi belum sempat luangkan masa untuk belajar.
Jadi, tool percuma Canva ni memang banyak membantu saya dalam proses design gambar menarik dan jadi lebih cun bukan jer untuk FB Ads, tapi banyak lagi kegunaan gambar menarik untuk benda-benda lain yang kita akan tengok nanti.
Saya akan guide anda bagaimana nak daftar akaun untuk Canva dan bagi satu contoh ringkas cara design gambar guna Canva. Jom baca seterusnya!
Cara Daftar Akaun Dan Contoh Design Gambar Menarik Guna Canva!
Okay sekarang saya akan tunjukkan cara daftar Canva, tool yang gempak tapi percuma untuk design gambar menarik. Benda ni simple jer huhu, ramai boleh buat sendiri tapi saya kena jugak bagi panduan sikit bagi sesape yang belum pernah lagi guna Canva sebelum ni.
Untuk yang dah pernah guna dan biasa guna, pastikan anda share artikel ni supaya orang lain pun boleh mula guna Canva jugak. Saya jugak ada kongsikan kat dalam artikel ni kat mana anda oleh belajar supaya skill design anda guna Canva jadi lebih baik.
Okay, mula-mula sekali, masuk ke laman web Canva.com.
Ini adalah laman hadapan laman web Canva. Untuk yang baru nak guna tool ni, anda perlu daftar untuk buat satu akaun dulu. Dekat depan ni anda diberi beberapa pilihan, anda ni biasa nak design gambar menarik untuk apa.
Oleh sebab kita ni lebih kepada usahawan online dropship secara e-Commerce, nak design gambar menarik untuk post-post di FB Page, media sosial atau iklan Fb Ads, pilih 'Small Business'.
Sign Up guna emel.
Seterusnya, pilih 'Sign up with email' untuk buat satu akaun guna emel anda.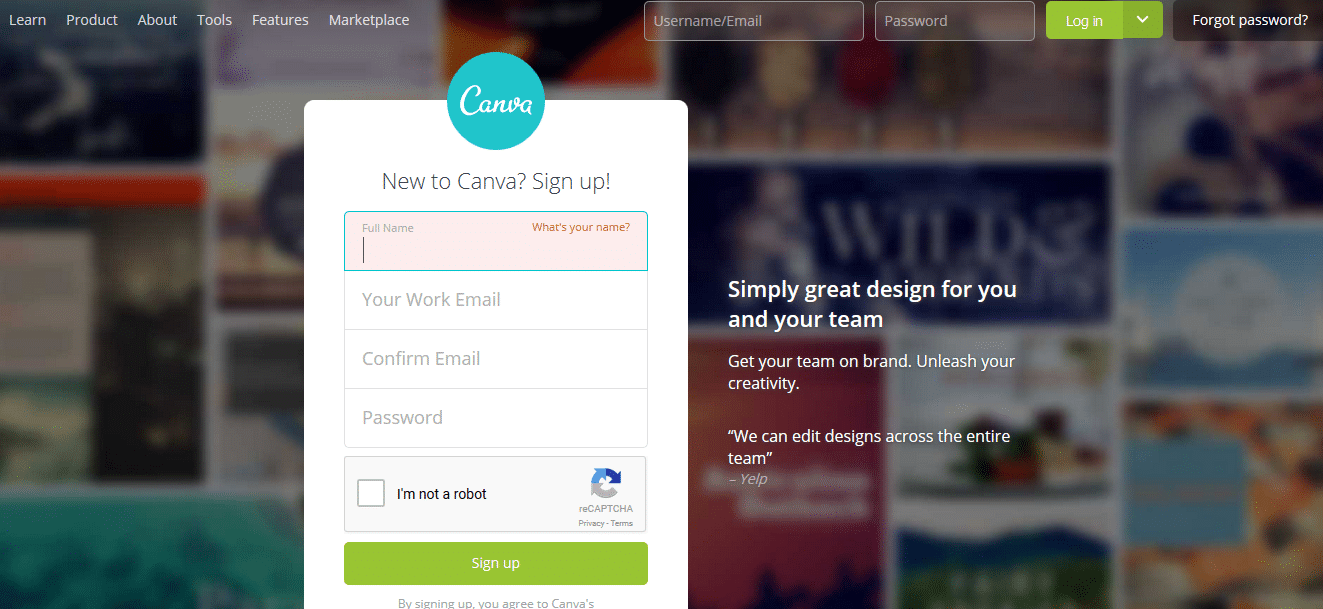 Macam biasa, anda perlu isikan butiran akaun anda seperti nama, emel utama yang anda gunakan dan password yang anda senang ingat. Lepas tu, anda tick pada 'I'm not a robot' tu dan tekan 'Sign Up'!
2. Pilih e-Commerce.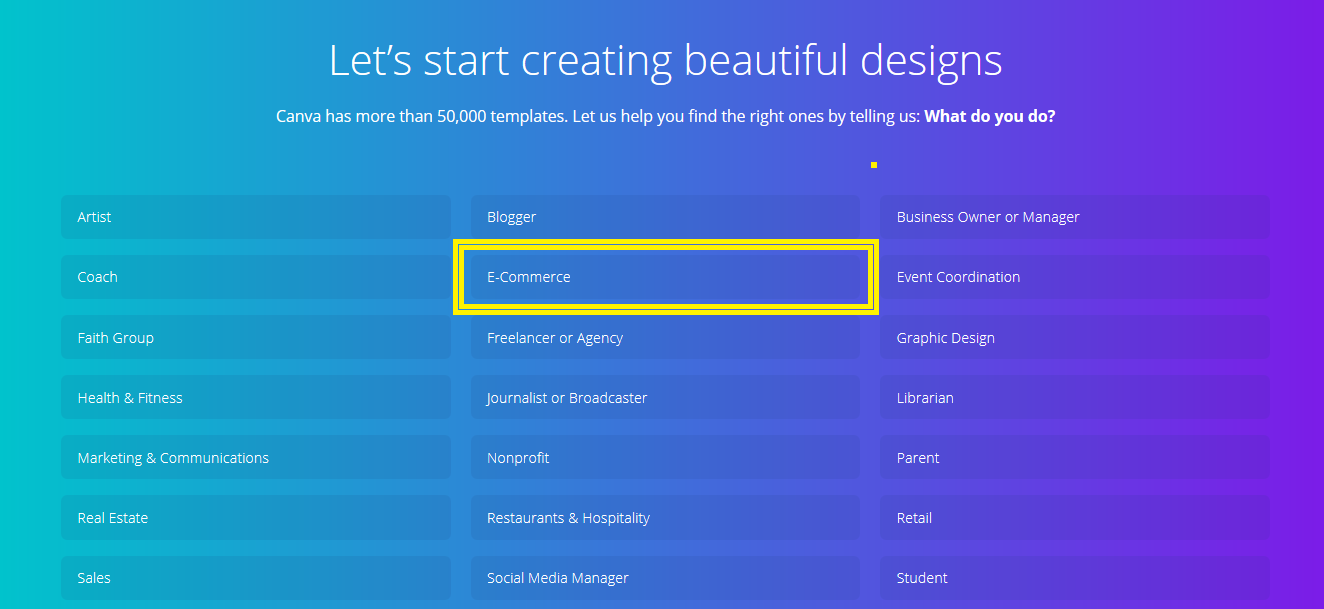 Dalam Canva ni sebenarnya dah ada beribu-ribu template gambar yang anda boleh gunakan untuk design gambar menarik secara drag and drop jer. Tapi dekat sini kita pilih e-Commerce untuk dia tapiskan template-template yang selalu digunakan oleh usahawan e-Commerce.
Tekan jer 'Skip inviting team members' ni dulu. Dalam satu akaun Canva, anda boleh tambah orang lagi sebenarnya. Sebagai contoh, kalau anda anda team yang tak berapa pandai design sangat tapi kerja dia buat design jugak dan nak sekalikan hasil kerja guna Canva dalam satu akaun.
Tapi untuk fungsi ini, anda kena bayar bulanan, jadi kita skip dulu part ni. Nanti, anda boleh explore lagi sambil-sambil anda berlatih design gambar menarik guna Canva ni.
3. Pilih 'More design types'.
Dekat sini anda boleh tengok beberapa template gambar menarik yang ada. Ada banyak lagi sebenarnya dalam kategori e-Commerce. Klik 'More design types'.
Haa…tengok tu ada banyak lagi template. Ada macam-macam jenis contohnya Social Media Post, Blogging & e-Books, Marketing Material, Ads dan sebagainya. Nak buat logo untuk bisnes anda pun boleh! Huhu…
Untuk bagi contoh dalam artikel ni, kita buat satu dulu ye, saya pilih template nak design gambar menarik untuk Facebook Post. Klik pada Facebook Post tu.
4. Edit gambar
Okay, bila anda dah klik pada template Facebook Post tadi, dia akan bawa ke halaman untuk edit gambar. Anda nampak ruang warna putih tu? Itu adalah ruang artwork anda. Macam satu kertas kosong, kita tak 'lukis' apa-apa lagi atas kertas tu. Sekarang masih kosong.
Saiz ruang artwork tu memang dah di setkan pada saiz gambar yang sesuai untuk kita buat Facebook Post. Sama jugak kalau anda pilih template-template yang lain, semua saiz template tu dah di setkan pada saiz yang sesuai. Jadi, anda tak perlu lagi fikir pasal gambar anda terlalu besar atau terlalu kecil.
Cer tengok kat bahagian belah tepi sekali belah kiri. Ada beberapa bahagian seperti Layouts untuk pilih template yang dah ready-made cantik-cantik, Elements untuk masukkan shapes dan icon, Text untuk masukkan tulisan pelbagai font, Background dan Uploads untuk masukkan gambar sendiri.
Anda boleh explore lagi satu per satu bahagian tu tengok apa yang ada kat dalam-dalam tu. Tak mampu saya nak cover semua dalam satu artikel ni, haha. Bila anda dah explore nanti, anda boleh dapat idea nak design gambar macam mana.
Untuk permulaan ni, kita guna template yang dah ready-made dulu. Saya pilih yang gambar kek tu. Klik pada layout gambar kek.
Sekarang saya nak cuba edit benda yang mudah jer. Gambar produk dengan ada ayat sikit. Klik pada gambar kek tu dan tekan delete pada keyboard untuk buang gambar tu sebab kita nak masukkan gambar produk sendiri. Lepas tu tekan 'Uploads' dekat tepi belah kiri. Tekan 'Upload Your Own Image' dan pilih gambar produk anda sendiri.
Tengok ni saya buat, kah!…
Klik pada tulisan untuk edit ayat sendiri. Bila anda klik pada tulisan tu akan keluar option bar untuk tulisan dekat atas. Kat sini, anda boleh pilih font, saiz, warna tulisan dan sebagainya. Okay, siap gambar saya! Walaupun tak menarik sangat, haha. Saya Cuma guide anda sikit dan dari situ anda kena explore banyak lagi, okay?
Tapi kalau bagi masa sikit dan buat betul-betul, InsyaAllah boleh buat lebih baik. Tengok contoh gambar untuk FB Ads yang pernah saya buat guna Canva ni…
Saya bukan jer design gambar untuk FB Ads untuk gambar kat atas ni, tapi saya jugak buat design yang dekat mug dalam gambar tu guna Canva. Ini pulak gambar Fb Cover untuk Facebook saya yang saya buat sendiri guna Canva…
Huhu, kira okay la tu kot untuk orang yang bukan graphic designer dan tak pandai design guna software-software advanced macam saya, haha.
Okay, ada cara bagaimana anda nak design lebih baik gambar anda dengan guna Canva. Untuk jadi lebih baik, anda perlu tengok tutorial yang disediakan kat lam web Canva sendiri.
Ada banyak tutorial yang penting dan bagus contohnya pasal Branding, Test Skill, Advanced Tip dan macam-macam lagi. Klik pada gambar kat bawah ni untuk ke halaman tutorial guna Canva atau klik sini.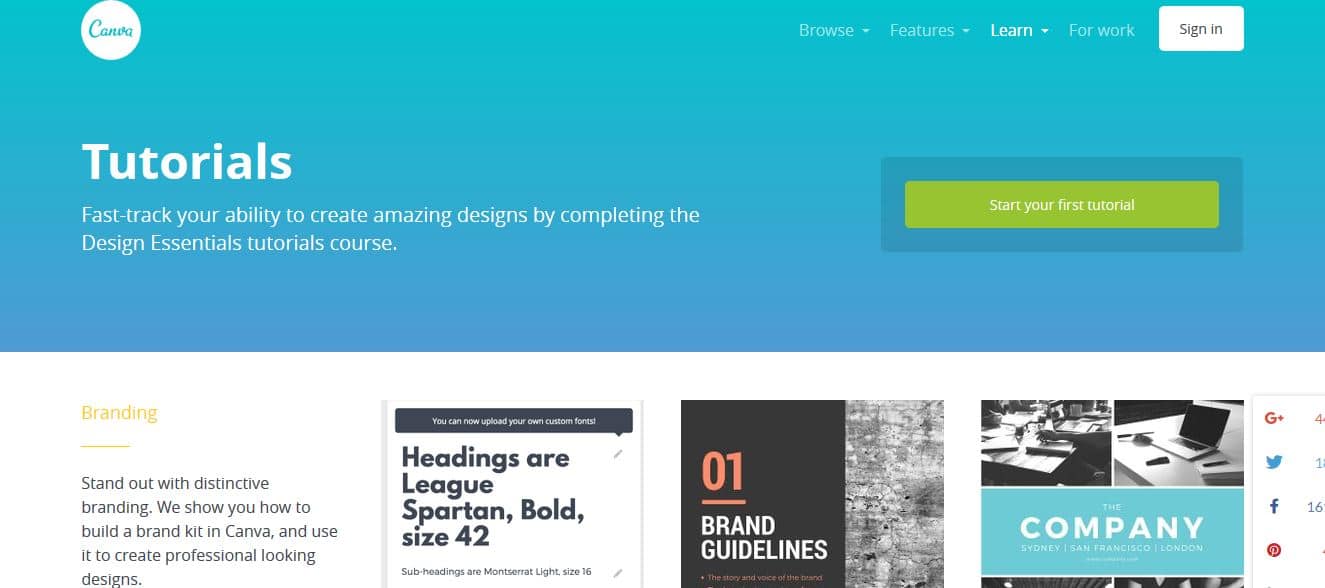 Kesimpulan Design Gambar Menarik Guna Canva
Proses design gambar memang jadi lebih mudah guna Canva dan dapat bantu sesape yang tak ada skill design gambar menarik guna software advanced.
Oleh sebab saya sendiri ada usahakan bisnes Print On Demand buat design T-shirt dan sebagainya, saya banyak tengok kat Youtube, orang yang buat bisnes Print On Demand ni guna Canva jer dan boleh buat jualan di Amazon, eBay dan sebagainya.
Jadi saya sendiri pun lebih berkeyakinan hasilkan design-design baju yang simple guna Canva. Bagaimana pulak dengan anda? Pernah tak anda guna tool percuma Canva ni sebelum ni atau anda ada guna tool percuma lain yang boleh tahan gempak jugak?
Kalau anda dah pernah guna, anda biasa guna Canva ni untuk design apa selain Fb Ads? Sebab adik saya sendiri guna Canva untuk buat presentation yang lebih menarik dekat universiti.
Setakat ni saya tak jumpa lagi tool percuma lain yang boleh lawan Canva, huhu.  Kalau ada, kongsikan jugak kat bahagian komen ye! Woot woot!
.