Hai! Sebelum ni saya ada buat satu artikel pasal cara buat akaun Instagram untuk bisnes. Itu adalah artikel pertama pasal Instagram yang saya tulis untuk manfaat bersama di blog Shopievo ni. Saya jugak ada bagi 3 teknik praktikal pemasaran Instagram dalam artikel tu. Kali ni, saya nak bagi anda 6 tips berniaga online guna Instagram pulak.
Instagram adalah antara sosial media yang banyak orang guna. Orang guna Instagram untuk 'terokai dunia' melalui gambar dan video daripada kengkawan dan pengguna seluruh dunia. Ini menjadikan Instagram sangat sesuai untuk entiti bisnes sebagai medium pemasaran untuk menonjolkan produk atau servis.
Setiap sosial media tu berbeza dan ada cara penggunaannya tersendiri. Jadi penting untuk kita ambil tahu sikit cara sesuatu sosial media yang kita nak guna tu berfungsi supaya kita boleh rancang strategi pemasaran yang sesuai untuk bisnes kita.
Tips Berniaga Online Guna Instagram 1 – Tentukan Platform Untuk Close Sale Pelanggan!
Kalau anda dah biasa guna Instagram, anda pasti perasan yang kita tak dapat nak letak link yang orang boleh terus klik pada gambar atau pada bahagian caption gambar. Usahawan online biasa perlukan fungsi ni untuk bawa prospek ke satu halaman lain sebagai contoh halaman surat jualan atau halaman kumpul lead.
Lagi satu, walaupun kita boleh promosi produk dan servis di Instagram, Instagram tak ada fungsi melakukan pembayaran online. Jadi, bagaimana kita nak berjual beli dengan pelanggan melalui Instagram?
Instagram lebih kepada medium pemasaran daripada platform berjual beli online untuk para usahawan. Anda boleh anggap Instagram sebagai katalog produk atau servis bisnes anda. Untuk berjual beli melalui Intagram, kita perlukan satu platform lain untuk memudahkan pelanggan membuat pembelian.
Ada 2 cara mudah. Cara yang biasa dan yang maju sikit. Cara biasa ialah dengan menggunakan aplikasi Whatsapp untuk close sale pelanggan. Cara yang maju sikit adalah dengan bina satu kedai online e-Commerce untuk bisnes kita.
Tengok contoh akaun Instagram @CalaQisyaIpoh ni. CalaQisya adalah satu jenama fashion dengan niche pakaian muslimah. Lihat bagaimana akaun ni gunakan ruang bio sebaik mungkin. Ada pilihan call to action nombor Whatsapp dan link ke kedai online e-Commerce untuk pelanggan membuat pembelian.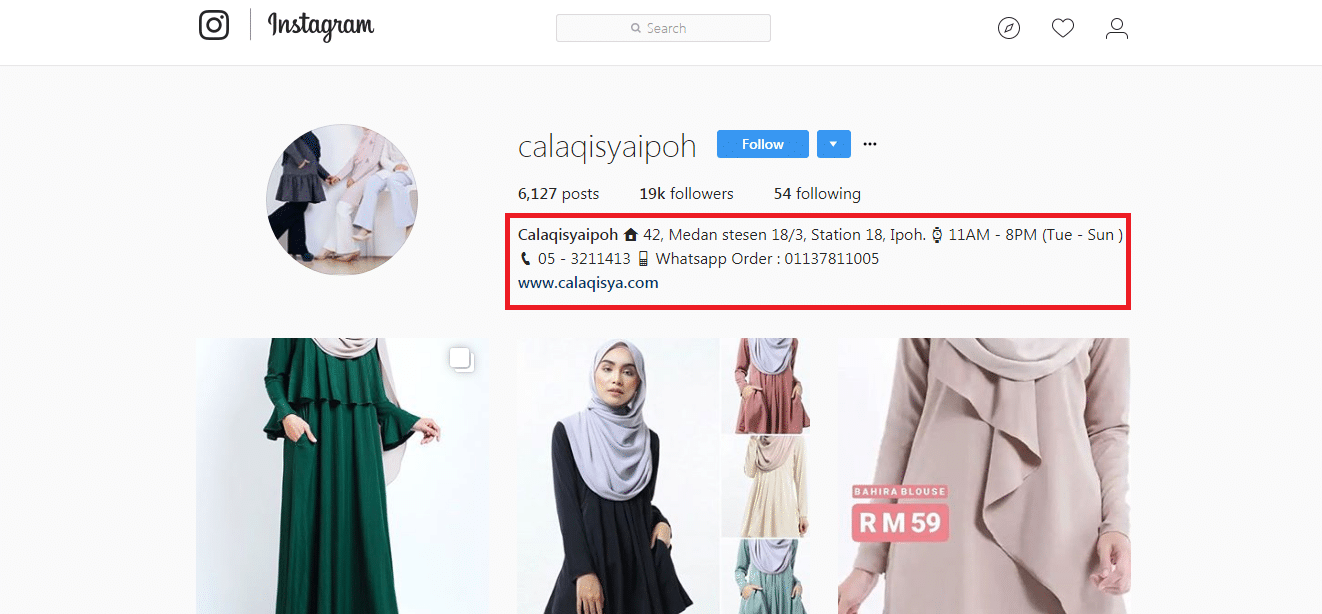 Tips Berniaga Online Guna Instagram 2 – Guna Logo Bisnes Untuk Gambar Profile
Simple is best! Guna logo bisnes untuk gambar profile akaun Instagram bisnes anda. Yang terbaik adalah guna logo bisnes dengan hanya simbol grafik tanpa tulisan. Logo anda akan dicrop kepada bentuk bulat.
Saiz gambar profile Instagram untuk tontonan smartphone adalah sangat kecil iaitu 150×150 pixels jer. Jadi, kalau anda masukkan tulisan pun, orang tak berapa nampak tulisan pada logo tersebut. Gunakan sepenuhnya ruang gambar profile tersebut macam dalam contoh akaun Instagram kat bawah ni…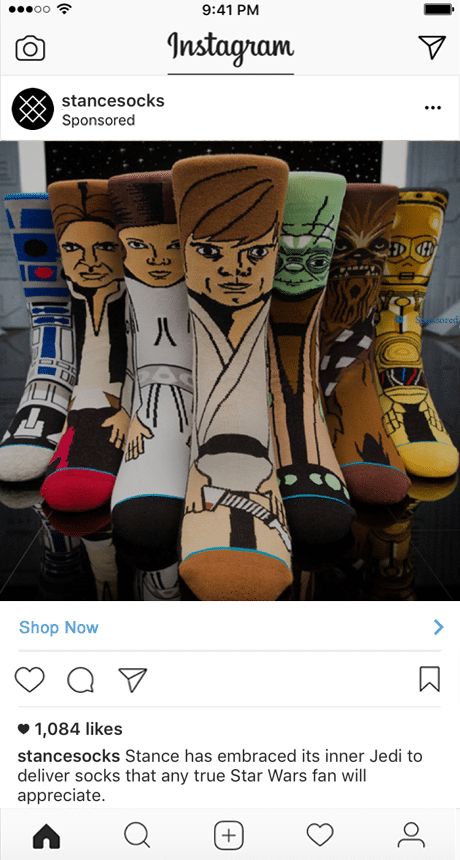 Tips Berniaga Online Guna Instagram 2 – Guna Nama Bisnes
Ada 2 nama yang anda perlu tentukan untuk akaun Instagram bisnes anda iaitu 'username' dan 'nama akaun'. Anda perlu tahu kedua-dua nama ini terhad kepada 30 huruf jer. Jadi anda boleh gunakan sepenuhnya kalau apa yang anda nak tulis tu muat, haha.
Untuk username, seeloknya anda letak nama jenama bisnes anda sahaja. Sebagai contoh anda buat bisnes perhotelan dengan jenama Worthy Hotels. Cukup sekadar nama itu sahaja sebagai username, @worthy_hotels.
Untuk nama akaun pulak anda boleh tambah description sikit untuk penuhkan 30 huruf tu. Sebagai contoh dalam gambar sebelah kanan di bawah, 'Worthy Hotels – Hotels Booking'. Kalau tak muat, tak payah buat kat situ, huhu. Boleh tambah kat ruang bio.
Nama akaun dipamerkan dekat profile Instagram anda. Username pulak keluar bersama post anda di newsfeed orang.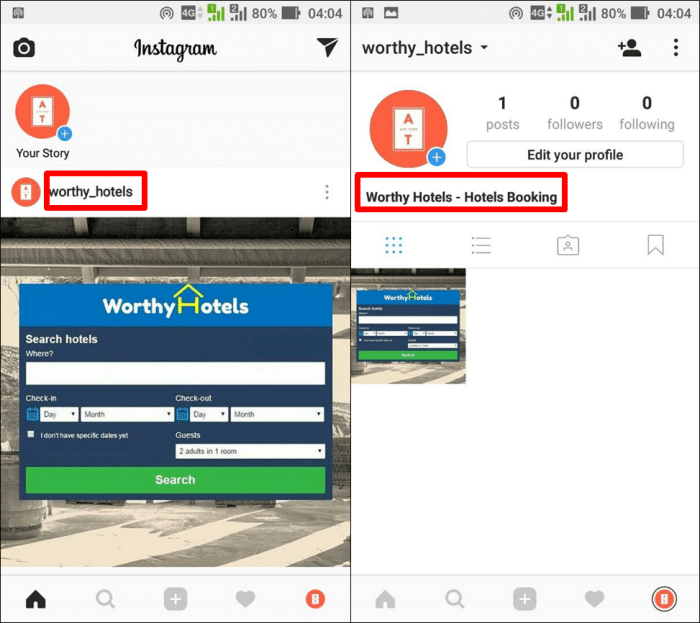 Tips Berniaga Online Guna Instagram 3 – Tambah Caption Menarik Pada Gambar
Cuba buat caption yang pendek, menarik dan sesuai dengan gambar. Anda jugak disarankan tambah paling maksimum pun 3 hashtag supaya caption anda tak jadi serabut orang nak baca. Anda oleh buat ayat tanya untuk tingkatkan interaksi dari followers. Tengok contoh macam salah satu post dari Instagram @calaqisya ni…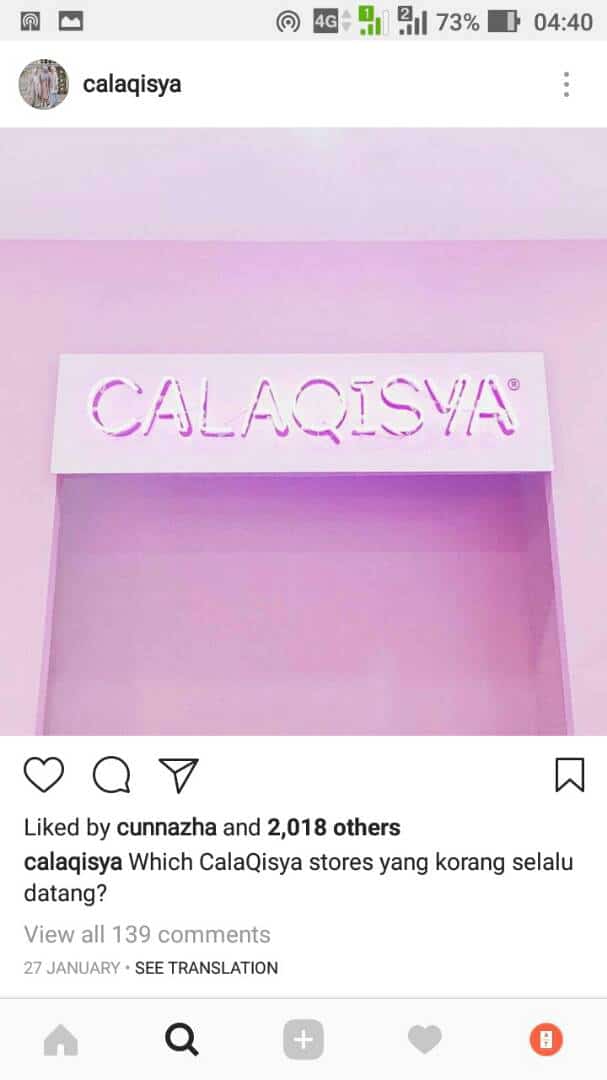 Tips Berniaga Online Guna Instagram 4 – Guna Call To Action Yang Jelas Untuk Instagram Ads
Apa yang best pasal Instagram ni untuk usahawan ialah, kalau anda buat Instagram Ads, iklan yang keluar dekat newsfeed Instagram orang, 'tak rasa macam iklan'. Sebab, kita guna Instagram dengan cara scrol, scroll dan scroll ke bawah untuk cekidout post-post orang lain. Kalau gambar tu menarik, kita like. Kalau tak, kita teruskan scroll.
Iklan yang keluar kat Instagram pun diselitkan antara post-post yang kita duk scroll tu. Saya dah kira, post Instagram Ads akan diselitkan setiap 5 post organik dari kengkawan yang kita follow. Cer anda tengok.
Kalau iklan tu menarik, kita stop dan like atau klik call to action yang lain. Kalau tak, kita teruskan scroll. Jadi iklan tu sikit pun tak merimaskan kita. Berbeza dengan iklan di awal video Youtube contohnya, kita klik sesuatu video untuk tengok video tu tapi kita 'dipaksa' untuk tengok iklan dulu untuk beberapa saat. Erkkk, rimas.
Sebab tu kalau anda buat Instagram Ads, pastikan gambar anda menarik, caption yang simple dan ada call to action yang jelas dan selari dengan tujuan anda buat iklan. Samaada anda nak orang buat pembelian (Buy Now), download sesuatu (Download Now), dapatkan info lebih lanjut (Learn More) dan sebagainya.
Tengok contoh iklan dari Instagram @ManchesterUnited yang keluar dekat newsfeed Insta saya ni. Ada perlawanan alumni Manchester United lawan Liverpool dekat K.L jadi dia gunakan call to action "Book Now" untuk orang tempah tiket secara online, sesuai dengan tujuan iklan tersebut.
Tips Berniaga Online Guna Instagram 5 – Guna Fungsi Tagging Sebelum Post Gambar!
Sebelum anda post gambar yang anda ingin kongsikan, anda boleh gunakan fungsi 'Add Location' atau 'Tag People'.
Fungsi 'Add Location' pada post sesuai digunakan untuk bisnes kedai makan kat sesuatu tempat. Mungkin ada orang datang ke sesuatu tempat dan gunakan fungsi 'search by location' kat Instagram untuk cekidout apa yang ada kat tempat tu.
Gunakan fungsi 'Tag People' jugak kalau orang yang anda tag tu boleh bantu post anda dilihat lebih ramai orang. Gunakan kedua-dua fungsi ini sekreatif dan sebaik yang mungkin. Lihat apa yang akaun Instagram @LillyPulitzer buat pada ruang location pada salah satu post diorang. Hah, kreatif!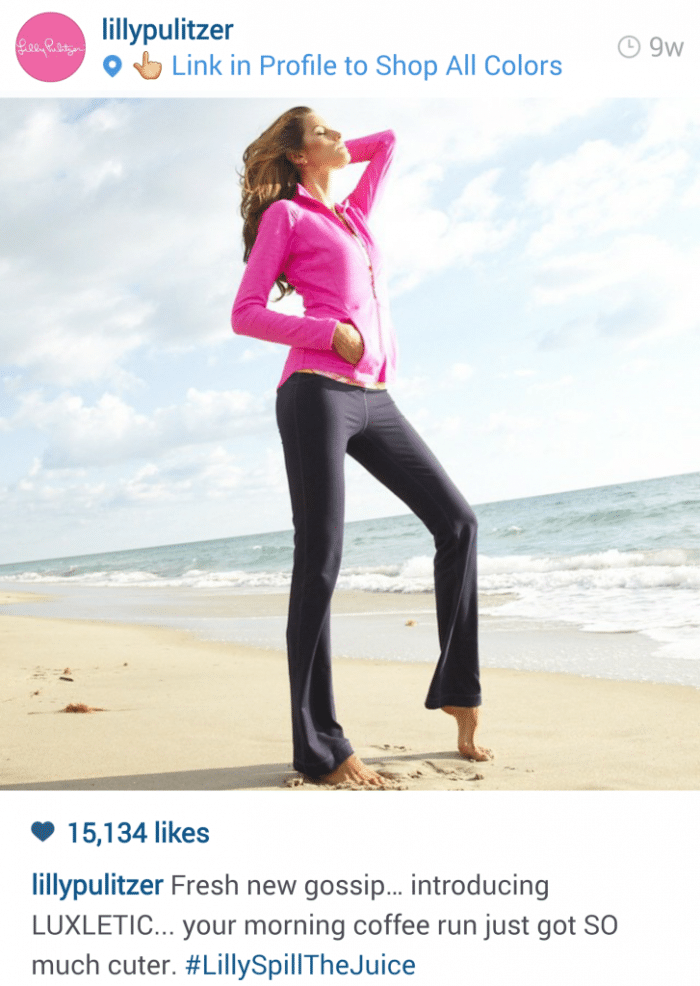 Tips Berniaga Online Guna Instagram 6 – Buat Gambar Atau Video Yang Berkualiti Dan Menarik!
Anda bukan photographer atau pereka grafik nak hasilkan gambar atau video cantik dan kreatif? Tak apa, buat content yang berkualiti dekat Instagram tak perlu pun skill fotografi dan grafik. Anda boleh hasilkan gambar atau video dengan smartphone anda jer.
Nah, untuk permulaan saya ada buat satu artikel tunjukkan bagaimana nak design gambar menarik guna tool percuma Canva. Anda boleh rujuk artikel tu kat sini.
Kesimpulan Tips Berniaga Online Guna Instagram
Itu sahaja 6 tips berniaga online guna Instagram yang saya dapat kongsikan pada anda kat artikel ni. Kesimpulannya, Instagram lebih kepada medium pemasaran daripada platform berjual beli. Kita perlu letak call to action yang jelas untuk pelanggan membuat pembelian contohnya melalui Whatsapp atau kedai online e-Commerce.
Selain itu, anda perlulah konsisten dengan jenama bisnes anda di Instagram sebagai contoh, pengunaan logo dan nama bisnes yang sama dengan Fb page atau laman web bisnes anda. Gambar yang menarik dan berkualiti juga antara faktor untuk tingkatkan interaksi followers di Instagram. Untuk artikel yang akan datang, saya akan bantu anda lagi dengan tool-tool lain yang dapat hasilkan gambar dan video yang kreatif.
Bagaimana anda gunakan Instagram untuk bisnes anda setakat ni? Ada tak tips yang anda boleh tambah selain dari tips saya yang mesra newbie ni, huhu. Cer kongsikan kat bahagian komen supaya siapa yang baca nanti dapat manfaat jugak. Woot woot!
.